ALBUQUERQUE LITTLE THEATRE: HILARIOUS "RUMORS" IS JUST THE THING FOR SPRING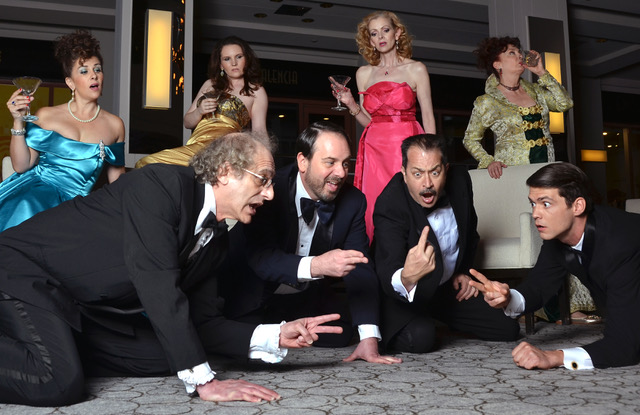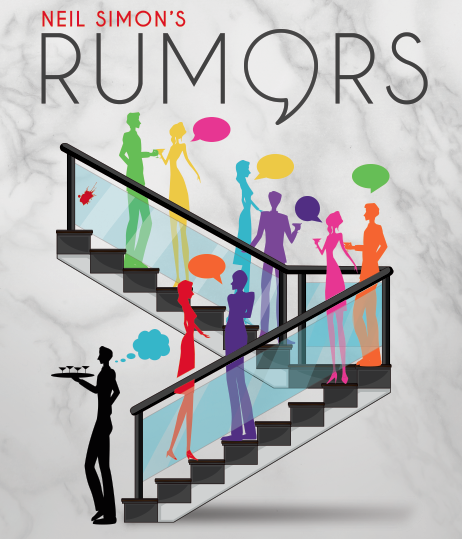 Neil Simon's plays are a big draw almost anywhere, and Rumors hasn't been done here to my knowledge. What a treat to see it directed by ALT's Executive and Artistic Director Henry Avery and featuring Dehron Foster, both of whom had a hand in a successful production at Baton Rouge Little Theatre more than 25 years ago, when the play was new.
Rumors is a broad, broad farce. Did I mention it's b-r-o-a-d? Simon's signature one-liners-with-corn are displayed here and the subject matter is perfect for it. Who doesn't like to laugh at the 1%? Rich people in tuxes and gowns show up for an anniversary party at a stunningly decorated townhome (Henry, Joe and Michael: You can redesign my house anytime!), only to find the host…well, you'll know soon enough. Needless to say, this party will never be forgotten.
And you won't forget the characters attending. Ken Gorman (Dehron Foster) and his wife, Chris (Michelle Volpe Roe) have arrived early to find the deputy mayor of New York upstairs in his bedroom, shot through the ear. Ken is Charlie's (the host's) lawyer and is very sensitive to the fact that this won't look good in the media. He's trying to keep Charlie and the bleeding contained to the upstairs bedroom. In the meantime, he's shouting orders at Chris downstairs, who is on the phone with Charlie's doctor. The physical comedy starts there and never lets up. With that long staircase and offstage rooms, each person in the cast can happily forgo the gym for a while.
The next couple to arrive are Claire and Lenny Ganz (Ronda Lewis and Matt Heath), who have had an accident in Lenny's new BMW. They quickly realize as the Gormans have that there are no hosts, hot foods, or help. Although the Gormans try to keep the truth from them, the Ganzes are finally clued in. As Cookie Cusack (Stephanie Larragoite), a TV chef, and her psychiatrist husband Lenny (Joel Daniel Miller) show up, chaos already reigns. After professional cook Cookie is dispatched to the kitchen to put dinner together, things get even worse, fueled by alcohol on empty stomachs.
When Glenn Cooper (David Bello) and his wife Cassie (Fawn Hanson) get there, they are already fighting. Offstage shenanigans involve Lenny's bashed-up BMW and the police make an entrance (Eric Werner and Nicole Erdman comprise a classic visual gag without uttering a word). Just when you think events couldn't disintegrate any further, the goofy guests decide to have Lenny play the role of Charlie (who is still upstairs, unwilling to join his own party), and tell the police "what happened."
Lenny's hilarious, made-up-on-the-spot story is a tour de force for Heath, whose comic timing and physicality never seems to fail him. That segment alone is a don't-miss.
–Stephanie Hainsfurther publishes ABQArts.com.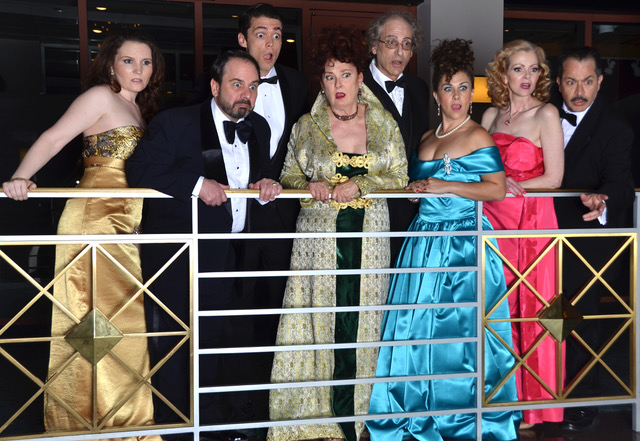 Photos by Randy Talley Photography.
Immediately above, l. to r.: Fawn Hanson, Dehron Foster, David Bello, Stephanie Larragoite, Joel Daniel Miller, Michelle Volpe Roe, Ronda Lewis, Matt Heath.