Albuquerque Little Theatre: REVIEW OF "IT'S A WONDERFUL LIFE" AT ALT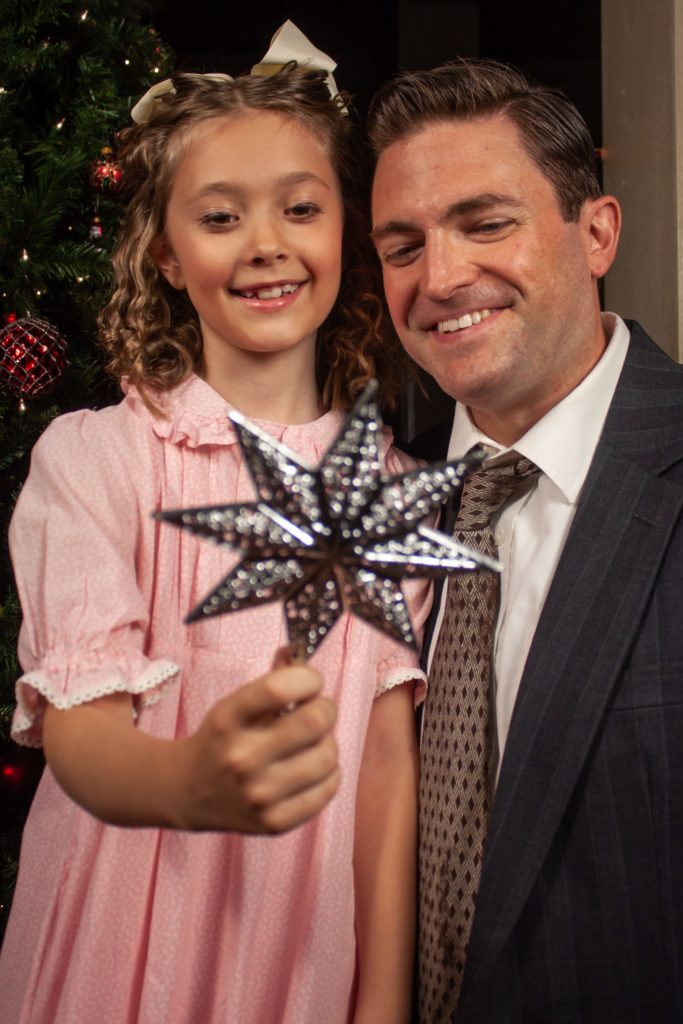 I've successfully managed to avoid seeing the film It's a Wonderful Life and then ALT mounts the play as their holiday production. And has the estimable James Cady direct it. What's a Christmas-phobe to do? Only discover, as a friend explained to me, that it's not really a Christmas play, but a lovely meditation on one man's life and how much poorer the world would be if he never had existed.
Act One explicates the life of George Bailey (Micah Linford), who lives in Bedford Falls. He's an extraordinarily kind boy, then a kind man, whose life doesn't go as planned but who nonetheless makes the best of it. It's an ordinary life in a small town, until George eventually feels squeezed in by desperate circumstances beyond his control. All the while, angels (Lorri Oliver and Annelise Wall) watch over him (and presumably all of us) while priming angel-in-training Clarence Odbody (Pete Parkin) to step in when George jumps off a bridge. In Act Two, Clarence is dispatched to show George what life in Bedford Falls would be like if he had never been born.
In that way, the story is a twist on A Christmas Carol, but with angels, and Clarence stepping in for all three ghosts. ALT's production does a nice job of recreating the time period—1945—generating nostalgia and a warm feeling through the scenic design (Glenn Pepe), costumes (Joe Moncada), and props (Samantha Seaman). The set is a series of big boxes popping in and out, spinning around, and being added to by stagehands and the cast, all of whom stay in character during transitions. It takes a village.
Standouts include the whimsical Parkin as Clarence, who endears us to him with a slightly ditzy approach to obtaining his angel wings. Philip J. Shortell does an effective turn as Henry F. Potter, the Scrooge-like financier, but is not evil enough to give the kids nightmares. Janine O'Neill Loffelmacher is appealing and funny as Mary Hatch Bailey, George's wife. Oliver as the angel Frankie glows with love and acceptance and beams it warmly down on all of us.
The character actors and the children in this large-cast show do a wonderful job of recreating Bedford Falls and its residents. And I enjoyed this big-hearted play so much, I don't ever have to see the movie.
—Stephanie Hainsfurther publishes ABQArts.com.
All photos by Glenn Pepe.