KESHET'S "ALICE" IS HERE FOR THE HOLIDAYS!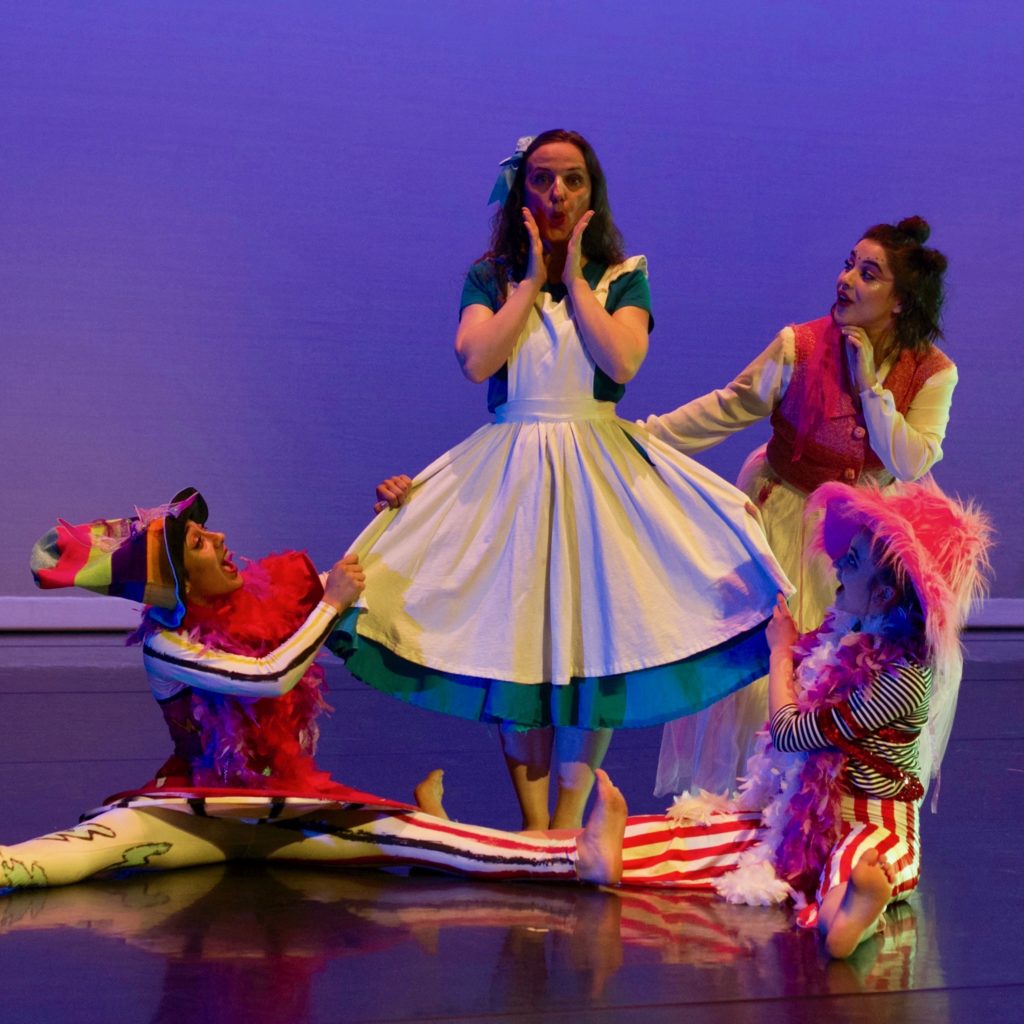 ALICE
Review by Stephanie Hainsfurther

The Cast
Photo by AJ Hedrich
Its subtitle is "an adventure of wonder and wondering," but we know right away that Alice is not the classic story by Lewis Carroll. Nor is it a newer version of Nutcracker on the Rocks, Keshet's 20-year holiday dance show that deviated from its own classic roots while remaining firmly fixed in the traditional story at beginning and end. This Alice, like The Nutcracker, is a fantasia of a young girl's movement toward womanhood. Quite unlike Tchaikovsky's ballet, however, that transition has nothing to do with romance and everything to do with facing her fears—alone, and in a dark wood.
Through modern dance, contemporary music, and the self-spoken poetry of Shel Silverstein (all seamlessly spliced at Keshet itself), this new show takes an extraordinary trip through a Wonderland peopled by multiple Mad Hatters and Mad Hares, Water Wind Flowers, and Bohemians. The 127 cast members are often onstage all at once, and the dramatic effects of the choreography and poetry and the sheer high spiritedness of the dancers will lift you up.
Alice (Sonia Bologa) tumbles down the rabbit hole outside of the magical Mima Be's house and finds warmth and acceptance inside. Mima Be (Elysia Pope) introduces Alice to her friends at the "Mad Hatters' & Hares' Tea Party & Fashion Show," where Alice is dressed up and invited to participate. After that colorful crowd disperses, there is a celebration of the natural world in "Dirt and Turkeys (only some of the things we are thankful for!)" and an influx of the hippie crowd in "Is This Real Life?". That last number in Act I is accompanied by a hilarious pantomime set to Queen's "Bohemian Rhapsody," a real crowd pleaser and an exuberant end to the first part of Alice's adventures in Keshet's alternate universe.
The tone changes in Act II, when Alice finds the formerly carefree Bohemians in tears. What follows is a scene out of "The Walking Dead" or what Halloween looked like at my front door this year. "Strange Games" are going on within a "Creepy Forest" depicted by a starkly looming upstage tree. These scenes go by quickly as Alice makes her way through her fears rather than avoiding them, keeping the show appropriate for younger children. Mima Be finds her again and blows away all cares with a gentle wind. Affirmations that nothing is impossible and life is an adventure to be savored (even when it's scary) leave the audience light on its feet.
If you are not familiar with Keshet, be enlightened. Their dancers are of all abilities. You will be moved when fellow dancers assist others to stand, dance, even fly. And you too will believe in "six impossible things before breakfast," as the White Queen said in "Alice Through the Looking Glass."
Choreographer and director Shira Greenberg has another hit on her hands. Although this 75-minute gem is worthy of a 20-year run, I suspect that her imagination will conjure another iconic journey before that time is up.
The above review is reprinted from TalkinBroadway.com, November, 2017.
PERFORMANCES: NOVEMBER 9 THRU 18TH, 2018
Fri, Nov 9th, 7:00pm
Sat, Nov 10th, 2:00pm*  and 7:00pm
Sun, Nov 11th, 2:00pm and 4:30pm
Thurs. Nov 15th, 7:00pm
Fri, Nov 16th, 7:00pm
Sat, Nov 17th 2:00pm*  and 7:00pm
Sun, Nov 18th 2:00pm and 4:30pm
* Sensory-friendly performances. Limited seating available. A great option for families with small children!
Tickets:$25-30; Children 5 and under half price; Student/ Senior/ Military rates and Group rate options available