LANDMARK MUSICALS: "A CHRISTMAS CAROL" OPENS NOV. 24!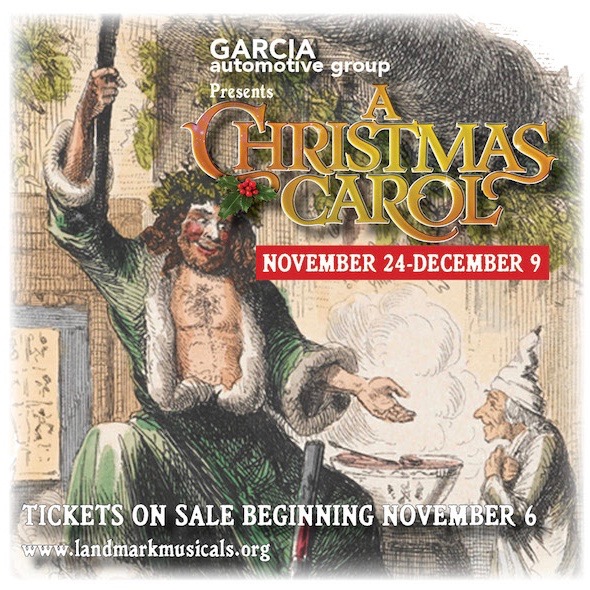 A Christmas Carol is a musical with music by Alan Menken, lyrics by Lynn Ahrens, and book by Mike Ockrent and Lynn Ahrens. The show was presented annually at New York City's Madison Square Garden from 1994 to 2003. The Landmark Musical production opens November 24 at the Rodey Theater and closes December 9 after 8 performances. The show is directed by Laurie Finnegan. Composer Menken also wrote the music for Beauty and the Beast and The Little Mermaid.
Terrence Mann, Tony Randall, Hal Linden,), F. Murray Abraham, Frank Langella, Tim Curry, Tony Roberts, Roger Daltrey and Jim Dale have all played Ebenezer Scrooge in subsequent productions of A Christmas Carol. For Landmark, Scrooge is played by Ryan Shepherd, who also played Harold Hill in the successful Landmark production of The Music Man.
The opening numbers are "The Years Are Passing By" and "Jolly, Rich, and Fat." In later productions the two numbers are combined as "Jolly Good Time." Scrooge first encounters the three ghosts of Christmas in their real-world guises as a lamplighter (Past), a charity show barker (Present), and a blind beggar woman (Future) ("Nothing to Do With Me"). Scrooge's long-suffering employee Bob Cratchit, and Bob's son Tiny Tim purchase a Christmas chicken ("You Mean More to Me").
The visit of the ghost of Jacob Marley ("Link By Link") features a half-dozen singing, dancing spirits presented with various levels of makeup and special effects. The Ghost of Christmas Past reinforces the character's signature theme of illuminating Scrooge's worldview ("The Lights of Long Ago").
The Ghost of Christmas Present ("Abundance and Charity" and "Christmas Together") makes his point that Christmas is a time for celebration, generosity, and fellowship. The former takes place at a fantastical version of the charity show he was seen promoting on Christmas Eve, and the latter whisks Scrooge on a tour of London that includes the homes of his nephew Fred, his clerk Bob Cratchit, and Mr. Smythe, a recently widowed client of Scrooge's lending house.
The entire Christmas Future ("Dancing On Your Grave", "You Mean More to Me (Reprise)", and "Yesterday, Tomorrow, and Today"), culminates in Scrooge's awakening in his bedroom on Christmas morning.
"What a Day, What a Sky" bookends "Nothing to Do With Me," dramatizing Scrooge's new outlook as he races through the streets of London making amends. The show concludes with a reprise of "Christmas Together" featuring the entire cast.
"Music, dance, colorful costumes and atmospheric scenery — all intended to make holiday theatergoing a pleasant family experience — are marshaled here to satisfying effect," according to The New York Times. Jeremy Gerard reviewed the production for "Variety" writing "Spectacle is the operative word here. It is done fluidly and with considerable humor, especially in the first big dance number, 'Link by Link,' in which a very animated Ghost of Jacob Marley and a platoon of ectoplasmic accomplices outline for Scrooge the many ways in which his life has gone wrong."
The Landmark production is designed by Dahl Delu, the Emmy Award winner who is Landmark's resident production designer.
Reserved seats may be secured after November 5 by going to www.unmtickets.com or by calling 505.925.5858. For more information, go to www.landmarkmusicals.org.