"Little Opera" Packs a Big Wallop
An opera based on pop dance music? Astor Piazzolla's tango operetta Maria de Buenos Aires sounds outlandish, but it's happened before. Scott Joplin's Tremonisha incorporates ragtime, black folk dances, and early blues. Smetana's Bartered Bride is packed with polkas. And, of course, the Viennese waltz generated The Merry Widow, Fledermaus, and Rosenkavalier.
But Piazzolla's Maria, now playing in Opera Southwest's production at the Hispanic Cultural Center, cuts deeper than these earlier works because the tango itself cuts deeper. Maria demonstrates the range, melancholy, edginess, and power of that notorious erotic dance. A product of Buenos Aires's bars and brothels, tangos become globally popular early in the 20th century. Piazzolla's enhancements, known as nuevo tango, added American jazz improvisation and European classical sophistication, then relocated the form from the dance hall to the concert hall.
Piazzolla himself labeled the latter an operita, a "little opera." But it isn't so much an opera as a gritty, lowlife revue. Premiered in 1968, Maria is sometimes seen as a metaphor for Buenos Aires itself, for the violence and mysteries of this megacity by the pampas. Its slangy, surrealist lyrics are by Uruguayan poet Horacio Ferrer, a frequent Piazzolla collaborator. There's barely a plot: Maria is an Argentine sex goddess who mixes with pimps, hustlers, and hitmen. She dies, is reborn as a virgin, gets mystically impregnated by a trickster elf, El Duende, gives birth to a second Maria and, presumably, on and on it goes. Ferrer's lyrics combine obscene similes, alley talk, coined words, and Catholicisms from the Hail Mary to the Stations of the Cross.
Tonally and stylistically, Ferrer's words match the music perfectly. And the music is plain irresistible. Instrumental interludes and tango dancing continually add spice. Maria's torrid solo "Yo soy María" echoes throughout as well, and El Payador's poignant picture of young Maria "En los ojos de mi niña" also recurs, providing more links. At the end it's the music that is overpowering, not the action or symbolism: it is wrenching when the newborn Maria arrives, because Piazzolla deals with fundamentals, with anguish and death, rebirth and hope. The piece is so surefire, it would work as readers theater, as just performers and music stands.
But last Sunday's opening of the Opera Southwest production offered much more. Designer Valeria Rios turns the Journal Theater into a tango club: an 11-piece band shares the stage with portable furnishings, flying shutters, and handy signage. The orchestra pit contains cocktail tables occupied by attendees who add to the club ambience. Anna Avery's costumes feature psychoanalysts in long-nosed masks like creepy storks, or madams and pimps in black robes like infernal monks. Octavio Cardenas, director of earlier stagings in Des Moines, Pensacola, and Grand Rapids, brought Albuquerque both lively bits of business and bittersweet touches: e.g., highlighting a single rose down center at the start, then later garbing Maria in a rose-dotted veil as she's impregnated. 
Musical pleasures included Rodolfo Zanetti's bandoneón solos and the startling power that OSW Artistic Director Anthony Barrese drew from his modest band for the childbirth climax of Part 2.
Vocalists are miked, evidently standard procedure for this piece and apt for a production aiming at a cabaret ambience. Sometimes this leads to good-looking singers with less volume, true of OSW's heroine: as Maria, Denise Wernly Alsina is soft-edged, slender, and lovely rather than brash and Mermanesque, more a docile victim than a sexual amazon. Certainly a defensible choice, although "Yo soy María" and the character herself might benefit from the raw power an operatic mezzo could bring to them.
The show's other vocalist, baritone Efrain Solis, has a more sizable instrument. Playing El Payador, an Argentine wandering minstrel, he's smooth and mellow but also capable of craggy power in Part 2. Everybody else throws in spoken lines, including the extras and El Duende, the show's narrator. The latter is played by OSW stagehand Jose "Pepe" Gallardo, springing in during later rehearsals at the invitation of Executive Director Tony Zancanella, who learned Pepe was a longtime fan of Maria and had it nearly memorized. The result: Gallardo's Duende is a charming sleazebag who orates Ferrer's poetry with flair. Pablo Rodriguez and Eva Garlez are the suave lead dancers in the tango.
Though a Buenos Aires native, Piazzolla lived in New York City from age 3, haunted Harlem in his teens, then visited Paris to study with Nadia Boulanger. The outcome? Large-scale concert pieces such as his own Four Seasons, History of the Tango, Concerto for Bandoneón (that south-of-the border concertina central to the tango), and Maria de Buenos Aires, his single contribution to music theater.
English translations are projected above the stage. Running time is 80+ minutes; there's no intermission, despite what the program declares. Remaining performances of Maria de Buenos Aires are Wednesday, Feb. 20 and Friday, Feb. 22, both at 7:30 p.m.; and Sunday, Feb. 24, at 2:00 p.m. The venue is the National Hispanic Cultural Center's Journal Theatre.
—Rick Walter
All photos above by Lance W. Ozier/TodosJuntosPhotography.com.
Denise Wernly Alsina sings the title role.
El Payador (r., Efrain Solis) narrates the details of Maria's life. 
Jose "Pepe" Gallardo plays El Duende.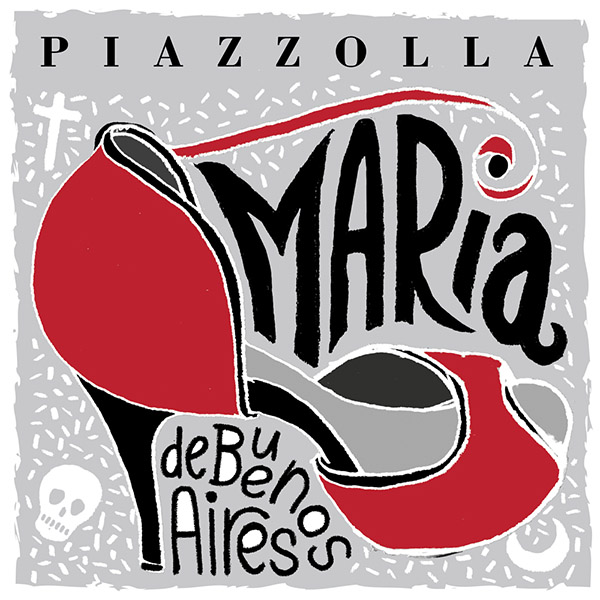 PERFORMANCES: FEBRUARY 20, 22 AND 24
Maestro Anthony Barrese will conduct the Opera Southwest Chamber Orchestra.
CAST
Maria / Denise Wernly Alsina
El Payador / Efrain Solis
El Duende / Jose "Pepe" Gallardo
Dancers / Pablo Rodriguez and Eva Garlez
Conductor / Anthony Barrese
Stage Director / Octavio Cardenas
English and Spanish supertitles will be projected above the stage for this production.
About Opera Southwest
Opera Southwest's mission is to produce quality, professional, enjoyable and accessible opera in an intimate setting for audiences of all ages.
Opera Southwest was founded in 1972 as Albuquerque Opera Theatre by Dr. Edward T. Peter, Maestro Kurt Frederick and others. The 2018-2019 season is Opera Southwest's 46th year of producing world-class opera in Albuquerque. OSW is a professional, regional company producing two to four major operas per year selected from the best of the standard repertoire. To date OSW has produced over 120 major operas for hundreds of thousand of patrons, and we are especially proud to have mounted 23 world premieres including an opera based on Rudolfo Anaya's blockbuster novel Bless Me, Ultima, which debuted in February 2018. Opera Southwest's mission stresses community and educational themes, and we have delighted more than 180,000 youngsters with outreach programs and exciting live theater. In this way, Opera Southwest ensures a loyal following in future years as these children grow into adulthood.