AUX DOG THEATRE NOB HILL: "A Delicate Ship" by Anna Ziegler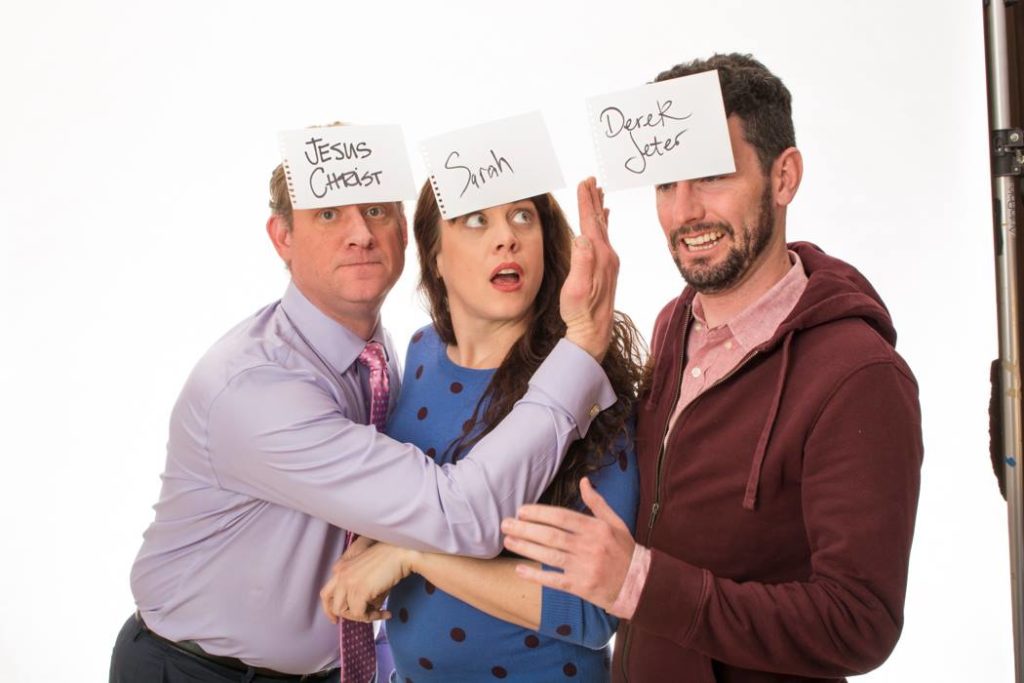 Photo by Russell Maynor
Through March 25, Directed by Sheridan Johnson. Tickets: auxdogtheatre.org, 505.596.0607
Sarah (Merritt Glover) and Sam (Colin A. Borden) are wrapped up on the couch and in each other on Christmas Eve in her Brooklyn apartment, quietly marveling at their new love. It's snowy and cold outside and they're right where they want to be. But of course, without that intrusive knock that rattles the door, there would be no story.
Enter Nate (Quinn Mander), Sarah's childhood buddy, ebullient and overbearing and unexpected. He's brought pot, Cheetos, and champagne. He's never heard of Sam. And Sam? Nope, never heard of Nate. Sarah starts to squirm. In fact, Sarah is pretty much a worm on a hook for the duration, as Nate brings up uncomfortable memories and Sam starts to chafe. It doesn't take Sam or us very long to realize that Nate is here to claim Sarah as his own. Sam does his best to stand up to the challenger, but his equanimity and regard for Sarah's feelings seem no match for Nate's scorched-earth brand of courtship.
In a bracing 80 minutes, we are treated to a three-hander with actors who can surprise, uplift, and take us on a haunting journey through time and the cataclysmic emotions uprooted when we dare to love.
Mander's role as Nate of course is the burning center of the play. This is a guy in free fall (parallels to Icarus amply explained in the program notes) and Mander courageously puts it all on the line. It's a raw performance, full of pain and longing, delirious and doomed. Don't try to diagnose Nate; just go along for the exhilarating ups and downs.
Borden's role could have been thankless without the solid skills this actor brings. Beside Nate, Sam at first seems kind of boring, a nice, dull dude you could introduce to your WASP parents who might like him despite the fact that he's Jewish. But there are layers here, and Borden seamlessly shucks them.
The contrasts between the men play upon the good guy-bad guy trope. Mander as Nate is all fire and brimstone to Borden's sweetness and light as Sam. Nate's siren song of the past calls to Sarah: he knew her father, knows her (bitchy) mother; smoked marijuana with her in the stairwell of their old apartment building when they were teenagers; lay in the sun on a blanket with her in college and talked about the future. Sam is new in Sarah's life, a condition that has its own charms, especially for a woman who is as uncomfortable with her past as she is nostalgic for it. Sam is a philosopher; Nate demands action. Specifically, Nate demands that Sarah choose him. Obliquely, Sam proposes.
See Sarah sweat. Glover telegraphs Sarah's tension with signals to Nate, shoulders raised to her ears, hands signing, "Down, boy." Is he clueless when he misses those gestures and glances, or does he deliberately ignore them? For when the secret she is trying to keep is bared, it's Nate who unwraps it.
It's not easy being Sarah, and I related to her like crazy. Glover is so much a 30-something, big-city woman on the way to the rest of her life, asked to make a choice she's not ready or willing to make. Wrenched from an uncomplicated cuddle with her lover to participate in an unscheduled, intimate review of her life-to-date, all of her secrets told, tasked to make more than one life-changing decision—quite a night! Glover plays it real, taking us through all the feels, smoothly moving between the men. A strong actor, Glover supports her side of the triangle, a challenge in this play dominated by male desire.
Director Sheridan Johnson works the single-set stage so we never feel claustrophobic. Designed by Susan Roden and Dean Squibb,  Sarah's apartment is urban and unfinished, with a door and a window and a backstage hallway that suggests other rooms. Johnson uses the space well. I especially liked the scene between Sarah and Nate, when Sam has been asked to leave the room, and yet he lurks, crossing the hallway and glancing into the main room to check on Sarah, twice. It's a subtle way to emphasize his character. This director's style is sophisticated and sure.
—Stephanie Hainsfurther publishes ABQArts.com.