Review: Mrs. Warren's Profession 2.0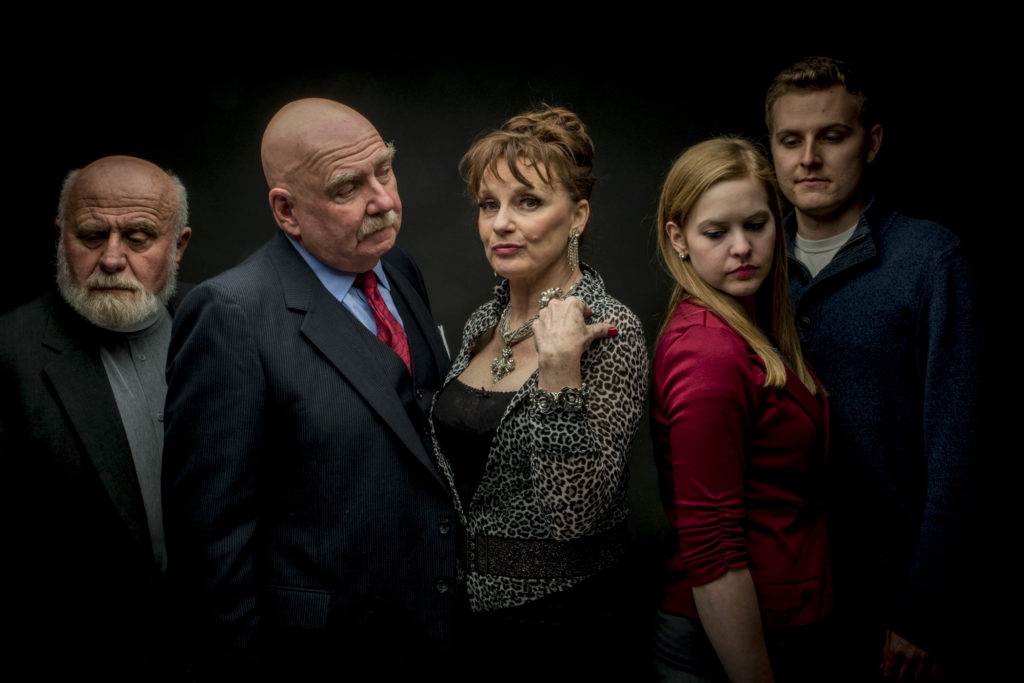 A Provocative Adaptation of George Bernard Shaw's
Mrs. Warren's Profession by Matthew Yde
Commissioned by the Aux Dog Theatre
World Premiere
By Stephanie Hainsfurther
G.B. Shaw saw his play Mrs. Warren's Profession banned and the New York City cast arrested in 1905. The adaptation was conceived by Aux Dog Artistic Director Victoria J. Liberatori and Matthew Yde was commissioned to write it.
In this adaptation, 2016's Kitty Warren (Bridget Kelly) now lives on The Gold Coast of Connecticut, a wealthy suburb of NYC, reveling in her elite lifestyle and her ability to have sent her daughter through Harvard. That daughter, Vivie (Abby Van Gerpen), is visiting for the summer, and being courted by her childhood pal, Frank Gardner (Nick Pippin), who has no visible means of support but dreams of Vivie's future pot of gold.
The self-satisfied Ms. Vivie has no idea how her mother made the spectacular fortune that put her through college. Take that plot line and stir it with the presence of Kitty's lecherous business partner, George Crofts (Philip Shortell); Frank's father, the morally conflicted Minister Sam Gardner (Scott Sharot); and a worldly family friend, the architect Stefan Pansolini (Dean Squibb). However will this mother-daughter relationship survive?
I'm not going to tell you, but I will say that this ambitious play survives on the strength of the acting. If the bios in the program don't knock you out, these actors will. Act I is a fascinating parade of personalities strutting for our amusement on a minimal set wrapped by a gorgeous mural by Artist Susan Roden and Set Designer Dean Eldon Squibb. The mural represents the hypocrisy of the top strata of society, all hush-hush about their vices while presenting a pious front to the world. That's how Mrs. Warren made her pot, and it's no shock to us that she took advantage of the rich sinners who could afford her services.
At first, it shocks her daughter, too, as Kitty points out that Vivie's knee-jerk moral loathing is hypocritical in itself. Then an apt speech by Crofts telling Vivie how the world works makes us squirm but delivers a stark truth: the rich thrive on the backs of the poor. Shortell pulls off this politicized world-view ("Democrats and Republicans, they're one and the same… .") because he is every inch that man in this multifaceted role as Crofts.
These twinned diatribes are delivered like scoldings by Mom and Dad From Hell. For as much as Kitty plays the gracious hostess and Crofts the prosperous CEO, we know there is more to the facade. In the original Shaw play, Kitty's a prostitute-turned-madam; in this play, she's a human trafficker. That profession will always shock us.
When practical-minded Vivie's shock turns into awe—that her mother could turn a head for business into such an empire—her loathing turns to admiration (bear in mind that Vivie doesn't know the full extent of the "profession" at this point). Again, the realism of this turnabout is down to the on-stage talent. Van Gerpen plays Vivie as a smug Ivy grad certain of what she knows; when what she doesn't know is revealed to her, she thinks she knows it all. The actor never waivers from this stance, until the end of the play, when she makes an improbable daughterly shift believable and human.
Kelly as Mrs. Warren embodies seasoned sophistication. Yet when her daughter breaks her heart, she shows it.
She is a force in this role and a foil for the evil surrounding her.
The final acts are brief and spotty in the writing but, again, wonderful in the characterization of these human beings caught up in an endless cycle going on for centuries. After another secret is revealed, Vivie runs away from Mrs. Warren's house and takes a grinding job in New York's financial district; Frank follows her to press his hopeless desires upon her; Pansolini wants to take Vivie to Europe and force her to see the beauty in the world. When Kitty shows up to reclaim her relationship with Vivie, she banishes the men and pleads her case.
Throughout the play, Yde intersperses the language of Shaw with modern language to make an interesting pastiche and perhaps remind us that human emotions haven't changed. It worked for my ear and the rhythm of the play. However, too often he uses his characters as mouthpieces for ideals and concepts. That never works. Only when the narrative is character-driven does it become a real story. Yde takes some risks here. As the audience, we should, too.
Tickets: auxdogtheatre.org, 505.596.0607