WEST END PRODUCTIONS: "The Effect" by Lucy Prebble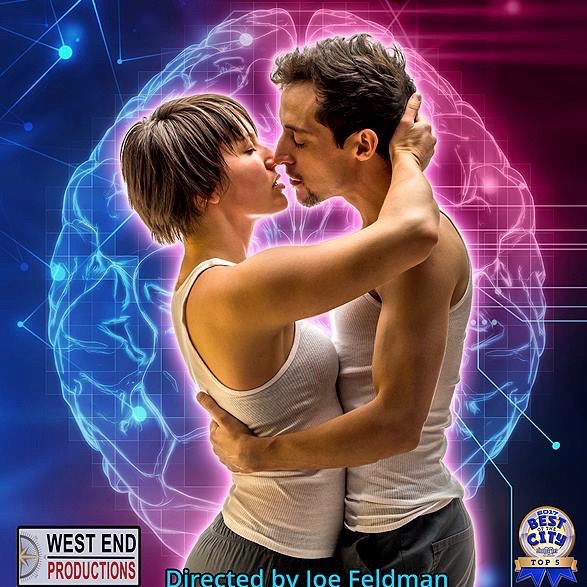 Photo by Russell Maynor.
WEST END PRODUCTIONS: "The Effect" by Lucy Prebble
Directed by Joe Feldman
Through March 25 at VSA N4th Arts Center
Tickets: westendproductions.org, 505.410.8524
New playwrights who see the world in dystopian ways often have their works labelled "Orwellian," as if they are writing satire and have some sort of wry detachment from their subjects. Perhaps those theater critics have forgotten that Orwell subtitled Animal Farm, for instance,"A Fairy Story." That subtitle was all about satirical fun and wicked word play.
One of our brave new plays, Lucy Prebble's "The Effect," is anything but a fairy tale. It is set in the here and now in a clinic during a drug trial. The set design might be 1984-ish but the issues she grapples with are strictly 2018.
Two young people—Connie-the-tightly-wound and Tristan-the-smart-ass—are being treated to the dehydrated questions of Dr. Lorna James (Colleen Neary McClure) about each one's suitability as a test subject for a new antidepressant. Dr. Lorna has been hired by Dr. Toby Sealy (Tim Crofton) to assist him in the trials. They are former lovers.
You can't really say that Connie Hall (Pip Lustgarten) and Tristan Frey (Isaac Christie) meet cute. Later on you could say they meet juiced, as they begin the trial and their dosages are increased. We can't miss the upping of milligrams, as at each new step a supertitle and a simultaneous buzzer disrupt the starkly effective ambience of the stage set.
If dopamine be the food of love, lay it on me. As Tristan and Connie get to know each other, they fall, madly, deeply. But truly? At this dose, who can tell? That's the crux of Dr. Lorna's dilemma: as she watches the 20-somethings tumble into lust and longing, she has to wonder if their emotions are drug induced. As we gradually learn of Dr. Lorna's personal views on antidepressants—and how she feels about her past affair with Dr. Toby—we wonder just how objective she can be.
Neary McClure is the pivot to this play's action and the key to its dark heart. She inhabits Lorna as a complete being whose problems seem never to interfere with her professional detachment and cool intelligence. Her dry demeanor does not break, until it has to. The back story going on behind her eyes draws us in every time she is on stage. There is not an actor here who could carry a show more ably.
Happily, she is paired with Crofton as Dr. Toby, an intense actor who always brings great personality to his roles. Toby's brisk and breezy attitude towards Lorna declares his total unsuitability for her yet, somehow, a regard for her as a person and colleague. The twinkle in his eye when he delivers the highlight of his motivational speech is sincere and so makes us laugh along with him. His role seems shallow only in contrast to the greater catalyst of Lorna's; in the end, Toby's trajectory is every bit as satisfying because of Crofton's choices.
The younger actors absolutely slayed me with their openness. Lustgarten and Christie spare nothing in their portrayals of two people falling headlong for each other. These are difficult roles, emotionally and physically, and they never put a foot wrong, trusting each other every minute and so allowing us to trust them. Each of two acts builds to a relentless end, in very different ways. Without highly trained actors to take us there, we would be let down indeed. No need to worry here.
Prebble's writing is witty and down-to-earth, occasionally escaping into the sublime. For instance, when Tristan and Connie unhook their monitors to make whoopee overnight, Dr. Lorna checks her records and informs them, "I'm missing eight hours each of your hearts." You said it, Doctor.
Director Joe Feldman made the choice to keep the older couple's relationship front-and-center (literally) and that surprised me. It is an excellent choice. For most of the play, the audience can relate to Toby and Lorna as fellow onlookers. When the small surprises come, our complacency goes, and our adrenaline spikes. I wasn't monitoring the dopamine levels.
—Stephanie Hainsfurther publishes ABQArts.com.
WEST END PRODUCTIONS is a theatre company dedicated to creating top quality theatre, film and video, with a primary focus on writers from England, Ireland, Scotland and Wales past and present. We will present works from the classical repertory, as well as showcasing the most contemporary of authors from the British Isles and everything in between. We pledge to hold ourselves to the highest professional standards.