We're Looking for You!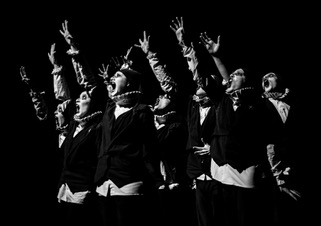 Wanted: Performing arts producers of dance, theater, and music who want to sell tickets.
Join the ABQArts.com subscribers who are cultivating new and loyal audiences.
Our subscribers enjoy a full year of Facebook posts, Tweets, free classified ads, and ABQArts.com web posts in the form of previews, interviews, reviews, and OpEds on issues in the arts. We write about your shows, the people who create them, star in them, stage them.
Join our community of performing arts subscribers who want to raise the profile of live performance in Albuquerque. Reach out to your loyal and new audiences through our online site and mobile app with our locally known and well-loved brand. We're back!
Here's what your performing arts organization gets for a $500 one-year subscription, costing less than a typical in-print ad:
Every month, abqarts.com will write a 500-word Feature Story about an event of the performing arts organization's choice. The event might be a performance, event, fundraiser, or other occasion pertinent to your organization's interests. The Feature Story will be posted in one of the Image Squares on the abqarts.com Home Page, and will also be sorted into one or more searchable categories at the bottom of the Home Page. The Home Page refreshes itself with every view so that no one Image Square remains at the top.
We want to keep you at the top of your community's mind; even in those few months when you go dark, your organization shouldn't disappear.
The Feature Story will fit one or more of the following categories:
Run-ups – previews of upcoming productions or events
Reviews – reviews of recent performances or events 
Players – profiles of/interviews with people involved in shows
Scenario – opinions on/highlights of performing arts issues
Every week, abqarts.com will make one post on their Facebook page and release one Twitter message mentioning the organization. In the absence of a specific event, the posts and tweets will be about another agreed-upon topic; a list of those topics will be maintained by abqarts.com after the organization agrees to them.
Every day, abqarts.com agrees to maintain an attractive, working website that serves the Albuquerque arts community and its audiences online and in mobile format. In addition, abqarts.com agrees to promote the website to obtain widespread readership within the Greater Albuquerque area.
Additionally, you are welcome to use our Classified Ads, for commercial use and free of charge, whenever you are looking for crew, front-of-house staff, new volunteers, or anything that helps your organization make its magic. Classified Ads can run as long as and as often as you like. Just tell us what you'd like to say.
We'll link to your website, and any other favorite links you designate that are relevant to your performing art, on our Home Page Links.
Think you can't afford $500 per year? Buddy up with a partner organization: split the costs and the coverage. We'll help you figure out how to get the most out of your partnership.
Contact stephanie@abqarts.com or call me at 505.301.0905 to talk about our subscription offer. And let's sell some tickets!