WEST END PRODUCTIONS: "SEPARATE TABLES," OPENING OCT. 5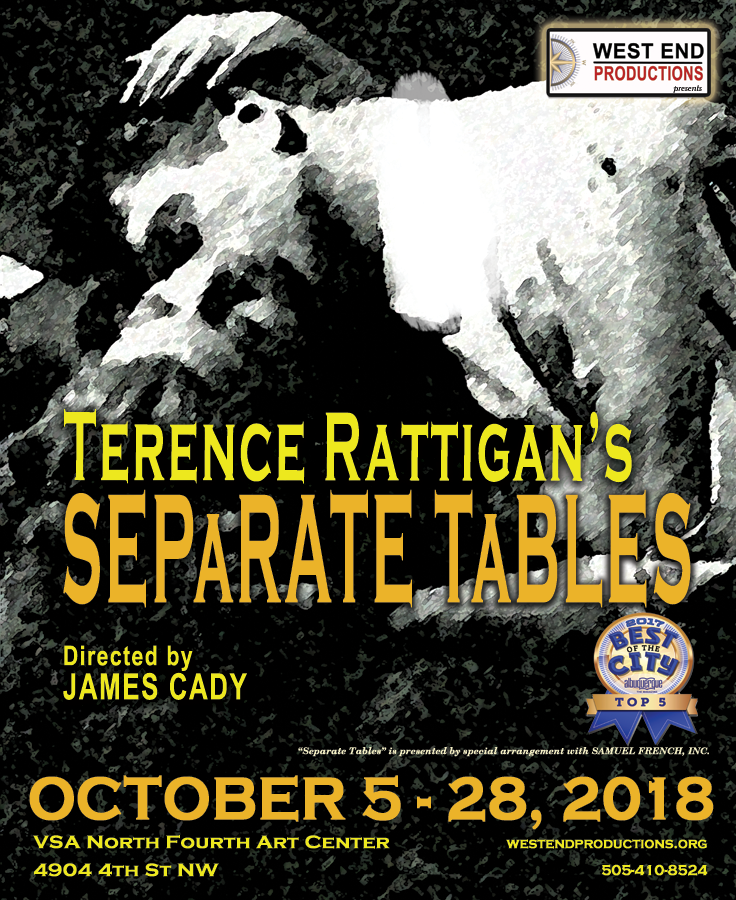 West End Productions' final presentation of 2018 is Terence Rattigan's SEPARATE TABLES. You might have seen the movie which starred Rita Hayworth, Deborah Kerr, Burt Lancaster and David Niven. Rattigan's play was first produced in London, 1954. Two one-acts, set eighteen months apart in the lounge and dining room of a small hotel on the south coast of England, are "deftly woven together into an intelligent, handsome" comedy/drama. The play examines social attitudes towards lifestyles and behavior deemed morally reprehensible in 1950s Britain.
Once again, director James Cady has assembled a cast of some of Albuquerque's finest actors as well as a couple of newcomers. H.K. Phillips and Matthew Van Wettering (recently seen in "As You Like It" in Shakespeare on the Plaza) play the lead roles of Ann and John in Act 1, and Sybil and Major Pollock in Act 2. Also performing in both acts are newcomers Lauren Jehle and Robin Havens-Parker. Robin is a welcome addition to the Albuquerque theatre community (relocated from Washington, D.C.), having been involved in all aspects of production since she was 12 years old. Other notable performers are Margie Maes, Colleen Neary McClure, Ray Orley, Linda Sklov, Carolyn Ward, Carolyn Wickwire, and Michael Weppler.
Cady chose to direct this play because "…it is a stunningly brilliant and provocative play evoking memories that haunt us all." There are lessons to be learned here about loneliness, compassion, prejudice and honesty, which are all laid bare and are as relevant today as they were 50 years ago.
Note: Adult Content       Audience 16+
Separate Tables runs at North 4th Art Center, 4904 4th St. NW, from October 5 – 28, Fridays and Saturdays at 7:30 p.m., Sunday matinees at 2 p.m. For more information, season and individual tickets, www.westendproductions.org