WEST END PRODUCTIONS: WEST END ANNOUNCES 2019 SEASON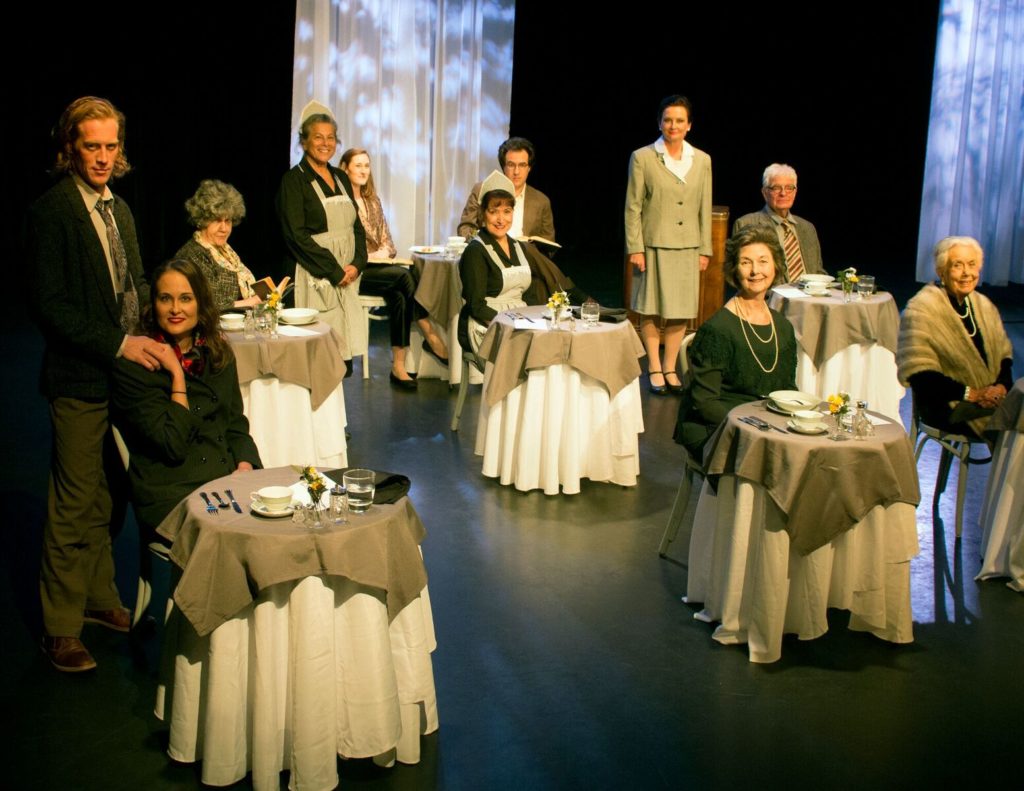 Continuing West End Production's mission to present plays from the British Isles – in 2019 audiences will be treated to Graham Greene's comedy, Travels With My Aunt, adapted for the stage in 1989, directed by the team of Cy and Jane Hoffman; the satirical comedy Lettice and Lovage (which was written specifically for Dame Maggie Smith who received the Tony Award in 1990), directed by Marty Epstein; and Dylan Thomas' renowned Under Milkwood, originally produced as a radio drama in 1954 starring Richard Burton, to be directed by Joe Feldman. Signing on to perform are some of our theatre community's well-loved actors – including Kenneth Ansloan, Tim McAlpine, Shangreaux LaGrave, Tim Crofton, Colleen Neary McClure, Jessica Osbourne.
CONGRATULATIONS TO WEST END PRODUCTIONS ON A SUCCESSFUL RUN OF "SEPARATE TABLES!" (OUR REVIEW APPEARS BELOW.)
SEASON TICKETS ON SALE FOR THE UPCOMING SEASON:

"SEPARATE TABLES" REVIEW:
Terrence Rattigan was an expert in social facades and the loneliness of hiding behind them, having been a gay man when you couldn't be a gay man, not in public. His characters in Separate Tables are well acquainted with that duality. Each occupies his or her island floating in darkness (nice touch, Petifoger) and each wears a mask. Whether they are fooling others or just themselves depends on the artfulness of their exteriors.
Separate Tables is actually two one-act plays. The first, Table By the Window, introduces us to a divorced couple and the tug-of-war between their identifications with class and their feelings for one another. Table Number Seven is the tale of a man living behind a false identity to hide yet another secret. The male and female leads in both plays are created by the same two actors. The lesser roles remain the same in both acts, including the comic relief of the waitstaff, played by Margie Maes (Doreen) and Linda Sklov (Mabel). All of the characters live in a residential hotel in Bournemouth, England.
Mr. Fowler (Ray Orley) corresponds with the "old boys" from his teaching days and waits for visits that never come. Miss Meacham (Robin Havens-Parker) keeps her nose in a book and plays the eccentric to keep others at bay. The unmarried couple keep to themselves: Jean Tanner (Lauren Jehle) pretends to be uninterested in marriage to Charles Stratton (Lars Panaro), another nose-in-a-book type who avoids the big questions as long as he can.
Lady Matheson (Carolyn R. Ward) is the passive companion of the overbearing Mrs. Railton-Bell (Carolyn Wickwire), playing her second-fiddle status with inoffensive responses to appease her friend. By Matheson's demeanor, however, we sense the lady's compassionate nature. This is not an easy role yet Ward carries it off without simpering or alienating the audience. We like her very much and suspect that, at some point, enough will be enough.
Wickwire as Railton-Bell plays the grand dame perfectly—sure of her superiority and the righteousness of her opinions. She doesn't set a foot wrong while playing a character who never changes because it never occurs to her that she should. Judgmental and trouble-making, Railton-Bell makes herself known in the first play and stirs up mischief in the second. If you've had a Mrs. R.-B. in your life, you'll recognize her.
Matthew Van Wettering is John Malcolm in Table By the Window, a failed, working-class politician who drinks. He has been to jail because he hit his ex-wife, the upper-class model Anne Shankland (Heaven Phillips). When his ex shows up at the hotel, recriminations and head games are on the menu. So is the dangerous sexual attraction that brought them together in the first place.
The two lead actors also show up as Major Pollock (Van Wettering) and Sybil Railton-Bell (Phillips), browbeaten daughter of the aforementioned Mrs. R.-B., in Table Number Seven. The second couple couldn't be more different from the first. Pollock is a poseur whose dark secret is published in the local paper and the smoldering news is fanned to flames by Mrs. R.-B. Her daughter Sybil genuinely likes the Major and takes the news hard. The resolution of the problem is heartening. Van Wettering is very strong in both roles and Phillips's transformation from Anne to Sybil is stunning.
Besides the background roles and setting, the link between the plays is Miss Cooper (Colleen Neary McClure), the hotel's manager. As played by Neary McClure, Cooper is briskly competent and reflexively compassionate. Tasked with keeping up the hotel's standards and premises, she must also juggle high emotions stirred up by the plots. Some of those emotions are her own. Above all, Cooper recognizes that we're all human, and Neary McClure flawlessly embodies the character's empathy.
The ladies' costumes by Carolyn Hogan are period-specific (1950s) and lovely; the set is the quintessential Victorian-era hotel carrying on. In Separate Tables Director James Cady serves up a seamless, sophisticated production and makes it look easy.
—Stephanie Hainsfurther publishes ABQArts.com.
This play contains Adult Content. Ages 16+.
Above: Cast photo by Phillip J. Shortell.